Well, I CO my
BSJ for the KAL
. About four times.... I started out with some fingering weight cotton. Pretty, but I don't think there was enough. Then I tried it with some sock yarn. Pretty, plenty of left over balls of sock yarn, but I really didn't want to knit with small stuff. So then I found some light ww wool, and that was the winning combination.
I frogged one, in addition to being the wrong yarn, because I couldn't get the decreases to line up correctly (hint watch the
videos
for the easiest method I've come across so far). That's the four attempts. And I did one of those dumb things...read the instructions...to see EZ's suggestion on increases that make less visual impact on garter stitch. So, I'm proceeding with more confidence on this BSJ than I have with any of my previous attempts. And I'm having fun tracking down all the odd balls of wool to use in it. Cleaning up the stash! It's such a boring knit, all garter stitch and such, that without some color changes it would just be way to brain dead.
Tonight is knitting group and I'll take the BSJ along for my project.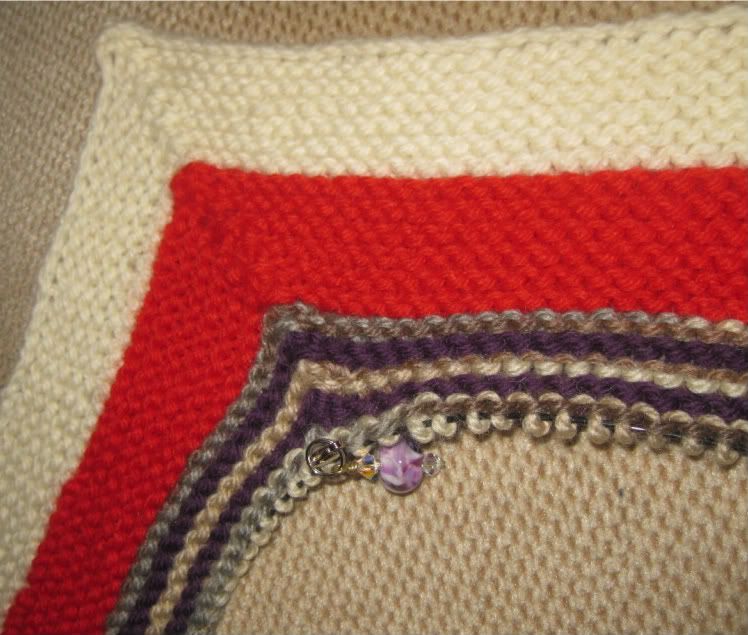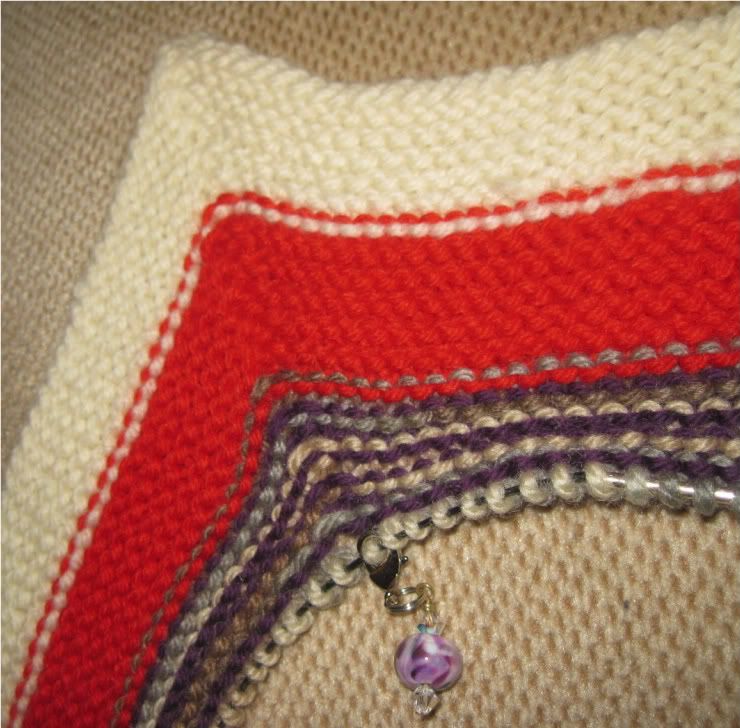 Some quotes from
Helen
:
If you're Michael Jackson's father now is not the time to be enjoying the limelight.
You can't be Pro-Life and Pro-War at the same time. If one of these dispositions has to be in your cadre, then pick one and live with the consequences.
You can't deny the right to marry to some and then cheat on your spouse. The right to happily marry belongs to all no mater how unhappy it makes you.
You can't tolerate the atrocities of one President for eight years and then assign the consequences to one who follows. From this day forward everything was Reagan's fault.
The Christian Right should be forced to spend a week in Iran. May the best radicals win.
The Real Housewives should actually be housewives.
If you don't read Margaret and Helen, please add them to your Reader. Great wit and insight from a couple of very bright and quick ladies!
Starbucks
has given me a reason to spend money there on more than just plain old coffee (yes, surprisingly, you can get just black coffee at Starbucks!)! "
Saving customers 7 billion calories per year, equaling nearly 5 million pounds of fat
by using 2% over whole milk as the standard in all beverages and setting nutrition "guardrails" for new products to be less than 500 calories."