---
Spent the day getting reacquainted with routines. Got some housework done, back yard cleaned up, laundry and all that good stuff.
Here are the works socks I made for 3rd Son while visiting. Plymouth Encore Color 9625. Simple Vanilla Socks. They fit him perfectly and he said they kept his feet toasty warm at work. Mission accomplished! Now I need to get four or five more pair done over the summer so next winter he's got clean socks for each day.
I spent a great amount of time frogging my Second Sock of the Confetti Roundabout variety. I just kept miscounting which is normal for me. Then I remembered that when I made the first one I had to kind of sequester myself in order to get the leg done. So I put those down and started working on a pair of socks for Youngest Daughter. I got some gorgeous yarn that matches the Tinkerbell colors she's so fond of. It's a gorgeous Merino Superwash and I'm really enjoying the feeling of it.
We looked for something "new" to keep grandson occupied during our 4 hour journey to Gatlinburg. I suggested the toddler crayons from Crayola. 3rd son kept a pretty good eye on him except for a few minutes: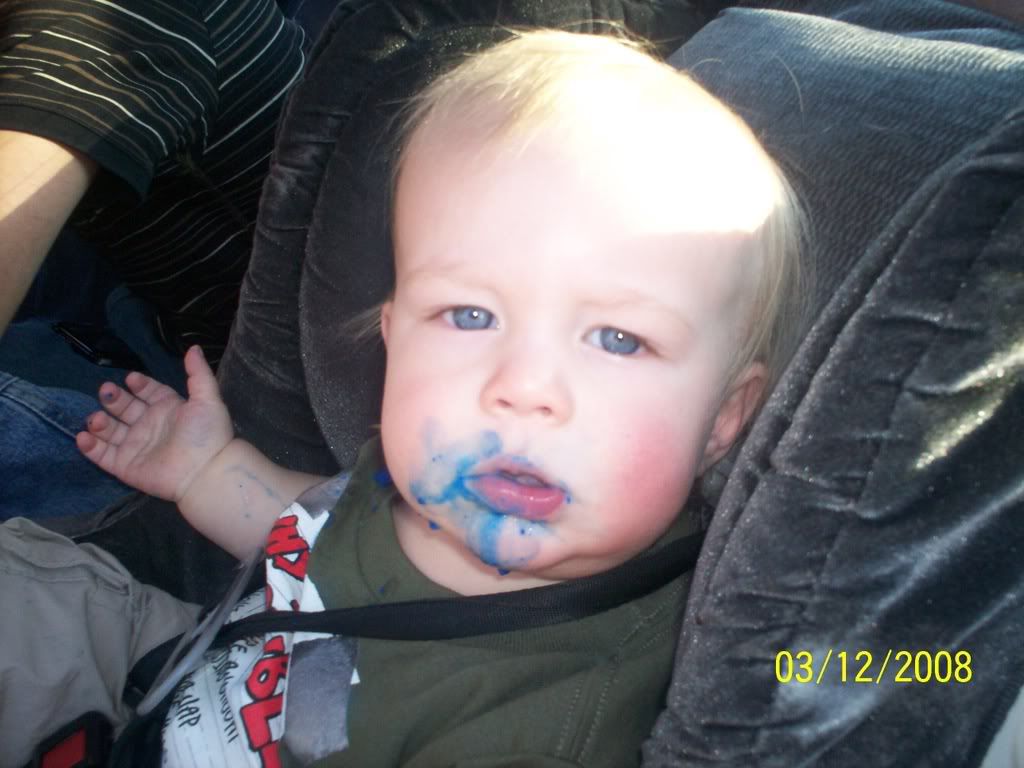 His dad, being King of Quips, said, "OMG, he ate a Smurf!"
---
---
Thanks to
Ann at Sheep Shots
for making the world aware of this pic:
GlittyKnittyKitty
has a great pic of some random acts of knitting in Ohio.